Gift Bricks® offers a popular variety of limestone address stones. The most popular selections are shown below. You will notice that the recessed numbers & letters have approximately 1/2 inch engraved depth. They can be ordered as engraved only or black, brown or gray paint-stain. For any other special colors, please call the Gift Bricks® sales department for other color options. Bed depth of the address stones is normally 2.25''. We can custom cut this depth to 1.5'' for an additional fee. Installation for the limestone address stones is normally mortared in place. Gift Bricks® features these popular sizes: 5'' x 16'' ~ 6" x 16" ~ 8" x 16" ~ 9" x 16" Custom sizes can also be ordered for a specific size you may require, just give our sales department a call.
9512 - square notched border w/recessed numerals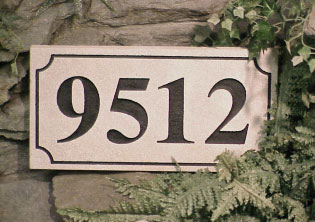 ---
6840 - square round notched border w/raised numerals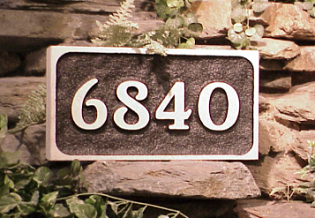 See More Examples
Address Stones 1 - -Stones 2 -- Stones 3
The most popular sized Gift Bricks® limestone address stones are available to ship within 48 hours. When placing your order, please call and our sales representative will give you an estimated ship time for your order. Some sizes and custom ordered address stones or markers will be given an estimated ship time. Usually just a few weeks will be required for special order completion.
About Address Stones--nAddress Stone Examples

Various types of Boulders and Rocks
Architectural Signage -- Order Form