Gift Bricks® limestone address stones can be ordered with graphics. When choosing a graphic, keep it simple. That makes the whole address stone and logo easily seen the average viewing distance to your stone.
590 - square border w/recessed numerals & logo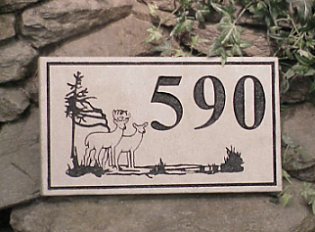 Gift Bricks® graphics representatives will be able to give you the best size for the address number, and a good size for the logo. You will be given a proof so that you will know how the image will look prior to production. Logo address stones will add a little to the final price and could take a few extra days, depending upon the image(s) used.
---
2920 - square notched border engraved only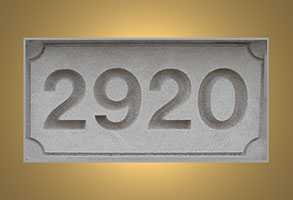 See More Examples
Address Stones 1 - -Stones 2 -- Stones 3
The most popular sized Gift Bricks® limestone address stones are available to ship within 48 hours. When placing your order, please call and our sales representative will give you an estimated ship time for your order. Some sizes and custom ordered address stones or markers will be given an estimated ship time. Usually just a few weeks will be required for special order completion.
About Address Stones--nAddress Stone Examples

Various types of Boulders and Rocks
Architectural Signage -- Order Form