Gift Bricks® limestone address stones can be ordered with or without borders. The standard color-stain is black, brown or gray. Please call our sales staff for other color choices.
590 - square oval with recessed numerals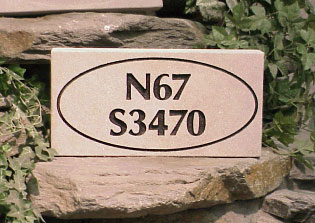 2920 - square notched border engraved only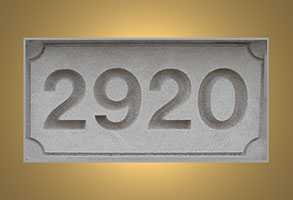 Address Stones 1 - -Stones 2 -- Stones 3
The most popular sized Gift Bricks® limestone address stones are available to ship within 48 hours. When placing your order, please call and our sales representative will give you an estimated ship time for your order. Some sizes and custom ordered address stones or markers will be given an estimated ship time. Usually just a few weeks will be required for special order completion.
AAbout Address Stones--nAddress Stone Examples

Various types of Boulders and Rocks
Architectural Signage -- Order Form